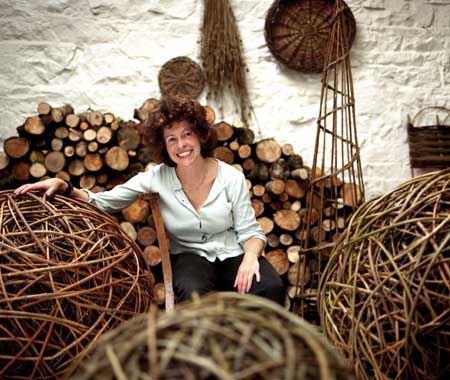 Lizzie Farey, Willow Weaver.
Lizzie Farey became fascinated by basket-making 16 years ago,
when she saw her sister-in-law making a baby's cradle. But it
wasn't long before she was looking beyond traditional forms of
willow-weaving to other designs.
"Once you've learnt all the different weaves, you can either
go down a traditional route and make endless log, linen and
shopping baskets, or you can break away from that, which is
what sculpture allows you to do."
Her studio is in the idyllic setting of an old tool shed on a
dairy farm in Galloway. Here, Lizzie Farey is involved in the
production process from start to finish: she grows more than
twenty varieties of willow, with charming names such as
Flanders Red, Brittany Blue, Dicky Meadows and New Kind.
These are harvested, stored, soaked and then made into
sculptures and sold.
They might look as though they're randomly put together,
but each piece is carefully laid out to form a perfect sphere.
Then there are her unusual wall sculptures made from ash wood,
which she says bring a "natural presence" to the home. "Often
city dwellers don't get much access to nature, so I can bring
a bit of it to them."
Lizzie Farey's pieces have also been exhibited at some
of the country's top venues, including the V&A museum
and Liberty in London.