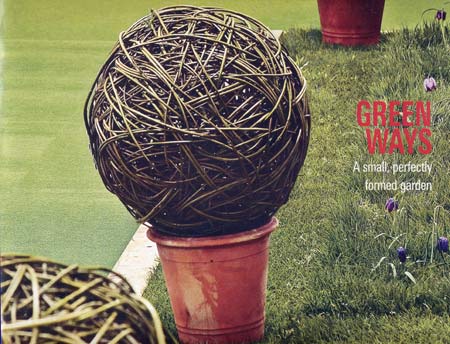 Small is beautiful.
Judy Riley and Andrea Scholes created a show garden in Edinburgh that is
packed with ideas that are easily adaptable in other small spaces.
The Spring Weave garden that Judy Riley designed for the Country Living Fair in Edinburgh had a contemporary feel and was full of practical ideas and features suitable for a small garden. The rectangular plot was intersected by paving in the shape of a cross, with a wide flagstone path running through the middle, letting visitors walk through with ease. The branches of the cross were planned as comfortable seating areas, developing a theme that would translate well into a courtyard or patio. The corners were punctuated and defined with show-stopping clay pots planted with living willow trained into balls.
Judy, who runs her own design service, Renaissance Designs, explains how the concept developed. "The theme evolved from the woven pots of willow," she says, showing me the six clay pots that have been trained into tightly woven balls by Galloway-based artist Lizzie Farey. "It is a simple but effective technique and one that is easy to maintain. You can either clip the branches to keep them bare or allow the green willow leaves to grow."
The four beds were edged with oak sleepers - an up-to-the-minute alternative to old railway sleepers, which was stylish and practical, and tied in well with the willow. The beds were planted by Andrea Scholes, who specialises in creating gardens for year-round interest. "I found that creating this garden was an opportunity to play with different plants to produce a harmonious result," she says. "I wanted to create a plant tapestry, and illustrate the use of contrasting texture, soft muted colours and form to produce a balanced whole."