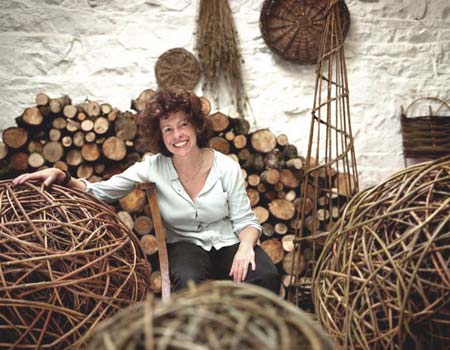 Private Views ~ Art in Action.
Dumfries and Galloway is a peaceful place. But next weekend it will
become a hive of activity as local artists open their doors to visitors.
Rhiannon Batten takes a look.
You don't find many crowd scenes in the work of Dumfries and Galloway artists. Big skies, lonely cottages, glassy lochs and empty beaches are the creative norm in this often-overlooked corner of South-West Scotland, reflecting the nature of the surrounding landscape. Yet there is one weekend that is uncharacteristically busy.
Next weekend, the three-day Spring-Fling festival takes place across the region, with 64 local studios opening to anyone interested in watching an artist at work, or buying a one-off souvenir. This is the fourth year the event has taken place, and the county's narrow country lanes are likely to be crammed; basket-maker Lizzie Farey counted 600 visitors through the door of her studio last year. That isn't bad going for a converted barn at the end of a single-track road on an out-of-the-way farm.
Just how remote it is becomes clear as I lose my way there twice on a preview tour of some of the studios taking part in the festival. (The studios are arranged into six colour-coded routes, all of which will be signposted on the weekend.) But the effort is worth it when I finally arrive. Farey welcomes me in, diligently taking me to see bundles of rainbow-hued willow she has propped up to dry against the walls of an outbuilding and explaining the inspiration behind some other finished pieces.
Her wildly imaginative work, which ranges from spacehopper-size willow spheres to intricate woven bowls laced with tiny, peek-a-boo pine cones, has been exhibited at the Victoria and Albert Museum and sells to collectors as far away as New York. Farey uses natural materials - birch, heather, bog myrtle and willow - to make sculptural pieces that could almost pass as natural elements of the landscape, until you look closer and realise that you've been tricked. Some are a direct collaboration with nature - she left one of her "nests" in the studio one day and came back to find a wren had taken its pick of her materials and built itself a nest within hers.
As Farey finishes the tour, the sun suddenly catches on a willow bowl and the light ripples along its rim of pale catkins like a ribbon of silver. It's not hard to see why her studio is so popular. There was another reason why so many people visited last year, though. Farey shares the barn with painter Bea Last and potter Hannah McAndrew, and McAndrew's mother was hard at work before last year's event on her own creation - baking 15 cakes for their Spring-Fling visitors to tuck into.
Mrs McAndrew will have competition this year from jeweller Natalie Vardey in nearby Auchencairn. Here, high above a vast bay, Vardey and willow worker Trevor Leat (best known for the vast, dancing sculptures he makes for the annual Wicker Man music festival, though he also makes more domestic items such as baskets, garden hurdles and coffins) are showing their work at Leat's Old School Room studio, tucked away down a narrow village lane. It's a clever juxtaposition of the two crafts since, while Leat weaves with willow, Vardey uses similar techniques to knit and crochet silver. Her talents aren't limited to working with precious metals though. On the day I visit, she gives me the full Spring-Fling experience, turning out a plate of exquisite strawberry tarts, each one topped with a delicate filigree of chocolate, inspired by her jewellery.
The art is only part of the Spring-Fling experience. An equally compelling reason for following the trails is that, by having to negotiate your way from one idyllic studio setting to another, you end up exploring a side of the region that you would never normally do. That evening, I head west towards Cavens, an unpretentious country house hotel in Kirkbean that is gaining a reputation for its food.
As I drive east, I suddenly stumble across a spectacular beach that, despite it being a sunny bank-holiday weekend, is covered only in sand. The following day, on a tip-off from Angus, the hotel's owner, I make a detour to the Loch Arthur Creamery farm shop in Beeswing to stock up on whiffy Criffel cheese and homemade granola and find myself following a stunning, gorse-lined road, through hills that seem to appear out of nowhere, past avenues of grand Scots pines.
"The whole attraction of the area is that it's undiscovered," agrees painter John Threlfall, when I pull up at his studio in Rockliffe, a small village huddled around a picturesque rocky cove east of Auchencairn. His paintings draw directly on the local scenery, creating a composite picture of fresh air, unmolested birdlife and ragged, peaceful shores; the ultimate escapist's dream. Wildlife photographer Denise Cook finds such rich pickings in the countryside around her nearby cottage that almost all her pictures are taken within a six-mile radius.
It isn't just contemporary artists who have been drawn to Galloway's striking, windswept landscape. The small harbour town of Kirkcudbright, a pretty hotch-potch of coloured houses and wind-chiming yacht masts lying midway along Galloway's coastline, developed into a thriving artists' colony at the turn of the 20th century. Thomas Blacklock, Charles Oppenheimer, James Guthrie, E.A.Taylor, Jessie M King and Samuel Peploe were all inspired by its picturesque surroundings. Not to mention E.A.Hornel, whose grand former townhouse and studio have been recently restored by the National Trust for Scotland and opened to the public. (On a sunny day the sheltered gardens, which lead leafily down to the river Dee from the back of the house, make an ideal picnic stop.)
Back on the Spring-Fling trail, there's time to make just two more stops. The first is at Holm Studio, outside Auchencairn, where ceramicist Will Levi Marshall designs fantastical site-specific installations from a striking contemporary cedar and glass workshop. Festival visitors won't be able to see his designs first hand (they include a rippling platinum wall for a garden in the Midlands and a current project for the Glenkens Community Arts Trust which involves incorporating a stream beneath sections of glass floor and building a canopy of ceramic branches overhead), but they will be able to see demonstrations of potting and glazing. Don't expect anything too conventional. Marshall is currently working on glittering beach-effect tiles for a land-locked garden in France and a series of quirky, limited-edition crockery that plays on the ideas behind the Magritte image 'Ceci n'est pas une pipe'.
Over at nearby Palnackie, meanwhile, performance artist Alice Francis is working on a mobile outdoor cinema constructed from what she was able to salvage when the 1920s Palace picture house in Castle Douglas was demolished a few years back. Using a converted caravan operating as a projection suite, a vast, full-size screen that "can go anywhere a Land Rover can go" and 40 plush red cinema seats she rescued from the cinema and recovered, Francis is planning a unique cinema installation for the village's small harbour during Spring-Fling. The programme hasn't been confirmed yet but it's likely to involve a silent movie version of the Burns poem 'Tarn O'Shanter', with local schoolchildren performing in and alongside it.
"People need away of expressing themselves outside of reality," she explains. Which may be true but visitors arriving from Lizzie Farey's studio may have more prosaic demands. Such as, will popcorn be provided?
Spring-Fling takes place over May Bank Holiday weekend.
For more information, visit
www.spring-fling.co.uk